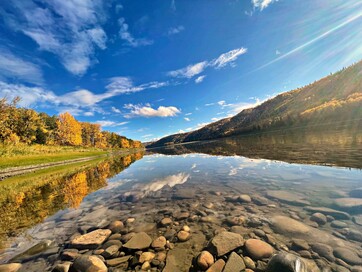 Pratt's Landing
Located along the Peace River downstream from Carter's Camp and upstream from Historic Dunvegan, this campground and recreation area is a hidden gem. Pratt's Landing campground offers 15 overnight non-serviced camping sites equipped with firepits and picnic tables, as well as an overnight group camping area. Stocked firewood, non-potable water and outdoor toilet facilities are available to all visitors. Other amenities include ample day use areas, a kitchen shelter (with stove), a playground, horseshoe pits and a maintained boat launch. The best part? There are no user fees! 
Pratt's Landing can be accessed by watercraft (canoes, kayaks, and riverboats) or by vehicle by travelling 32 kilometres west on Highway 682 from the Town of Fairview.
For more information, visit Mighty Peace Tourism.