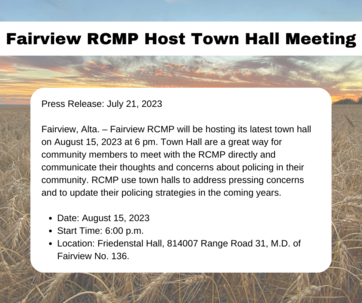 Press Release: July 21, 2023
Fairview, Alta. – Fairview RCMP will be hosting its latest town hall on August 15, 2023 at 6 pm. Town Hall are a great way for community members to meet with the RCMP directly and communicate their thoughts and concerns about policing in their community. RCMP use town halls to address pressing concerns and to update their policing strategies in the coming years.
Date: August 15, 2023

Start Time: 6:00 p.m.

Location: Friedenstal Hall, 814007 Range Road 31, M.D. of Fairview No. 136.